Vicky is a soloist at the Dance World Cup Finals in Spain
January 15, 2018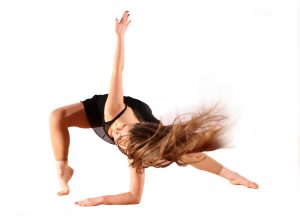 Very pleased to announce that Vicky Davies has successfully achieved getting two of her solos through to the finals of the Dance World Cup 2018. The finals will take place in Sitges, Spain in June.  Vicky will be dancing a version of "World on a String" choreographed by Dan Keen, originally used in our Moving Experience 2016.  This has made the finals of the Senior Show Dance section.  She will also be dancing her Lyrical in the Senior Modern section which is her own choreography.  We wish her all the best in these extremely competitive sections.
Those of you interested can watch the finals live on video streaming  – just keep an eye on the updates on the Dance World Cup page  – www.dwcworld.com/
In 2017, Basingstoke Academy's Persian Team made the finals in Germany, just being pipped to medals in a large section by making a strong 4th place.  This placing helped them table points that helped Team England win the Junior and Overall dance World Cup.  It was an amazing experience for them being involved in this prestigious and growing Dance competition and we have just heard also that they have been made finalist in the Basingstoke Sports Awards as Junior Team of the Year.
Panto Babes help promote Peter Pan in the Santa Parade
December 4, 2017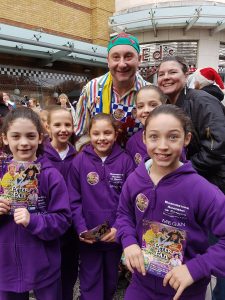 Yesterday our pantomime babes who will be performing in Peter Pan at the Anvil were part of the Santa Parade in Festival Place – helping promote the show alongside Andrew Agnew from Balamory who is playing Smee.  We also have some boys in the show too playing the Lost Boys and George is playing Michael.  Rehearsals have started and the performances start on Thurs 14th December
B.A.D. Squads at Hook Christmas Cracker 2017
December 4, 2017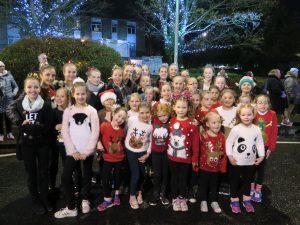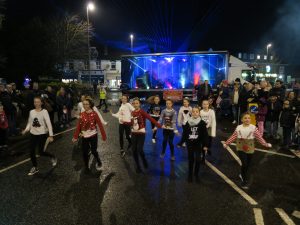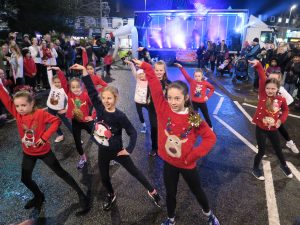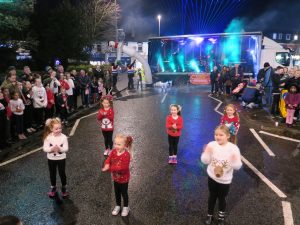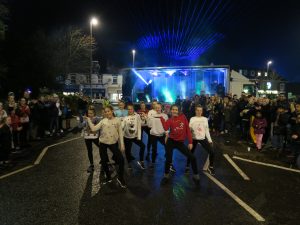 All our B.A.D. Performance Squads and most of B.A.D. Company performed to entertain the crowds at Hook Christmas Cracker last Saturday night 2nd December. It is really starting to feel like Christmas!  33 Dancers aged 6-14 smiled and rocked for the crowds, despite the drizzly weather.
Anyone can be in our Performance Squads providing you attend enough classes – two dance subjects for Baby Squad, three subjects for Junior squad and at least 3 hours a week for our oldest performance Squad.  B.A.D.  Squads have the versatility to perform at outdoor events where there is not always a stage and the choreography is designed to accommodate any number of participants – we have many varied performances throughout the year and next will be performing at the Anvil in March for the Mayors concert and again at QMC in April for Lions Club Charity.
If your child is interested in joining B.A.D. Squad let us know.
Thanks again to the Hook Christmas Cracker for inviting us  – it is always a lovely evening
New Stretch & Tone Classes Tuesdays at 7.30pm
November 21, 2017
Come along and try our new adult class with Laura Parsons
Peter Pan Rehearsals Started – Oh Yes They Have !
November 21, 2017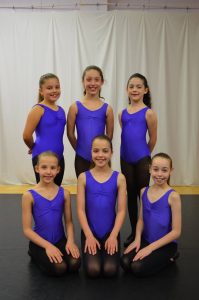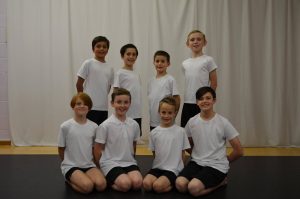 Good Luck to all our boys and girls in Peter Pan at the Anvil this year
Busy time for everyone as our Boys are in the Blue Team – along with students from North Hants Academy of Dancing and JG School of Dancing and our girls are in the Red Team with Boys from Theatre4Kids
George Vidler is playing Michael and our lost boys are Adam Jennings, Harry Coomber and Mikey Cloete
Our panto babes in the Red Team are Amelia Clark, Katy Webber, Megan Allabush, Phoebe Read, Millie Green and Dariana Clima
Rehearsals have already started and the show opens Thursday 14th December, running right the way through to Sunday 7th January – Each child has 21 performances over the period !  Busy Busy Busy !!
If you would like to go see them the schedules are below for each team – please get your tickets from The Anvil Box Office 01256 844244
PERFORMANCE SCHEDULE – most have two performances each day
Thursday 14th December RED Team
Friday 15th December BLUE Team
Saturday 16th December RED Team
Sunday 17th December BLUE Team
Tuesday 19th December RED Team
Wednesday 20th December BLUE Team
Thursday 21st December RED Team
Friday 22nd December BLUE Team
Saturday 23rd December RED Team
Sunday 24th December BLUE Team
Tuesday 26th December RED Team
Wednesday  27th December BLUE Team
Thursday 28th December RED Team
Friday 29th December BLUE Team
Saturday 30th December RED Team
Sunday 31st December BLUE TEAM
Tuesday 2nd January RED Team
Wednesday 3rd January BLUE Team
Thursday 4th January RED Team
Friday 5th  January BLUE Team
Saturday 6th January RED Team
Sunday 7th January BLUE Team
Day of the Dead Celebrations at The Top of the Town
November 7, 2017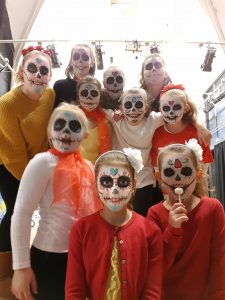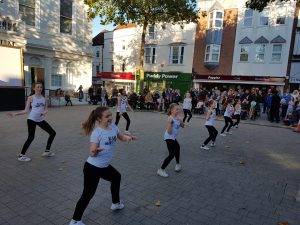 Once again, Basingstoke Academy of Dancing were able to help celebrate the Day of the Dead last Friday of the half term holiday with dancing and shenanigans in town.  B.A.D. Squad and Baby Squad danced in the afternoon whilst Junior Squad also got involved in the parade and festivities in the evening. Thank you to Top of the Town, Proteus Theatre Company and Copperdollar for getting us involved!
Amazing Basingstoke Variety Show
October 9, 2017
Our dancers had a lovely evening dancing and singing for the Mayor at the Basingstoke Variety Show.  This was at the Anvil last Saturday 7th October.  B.A.D. were part of approximately 430 performers all working together to raise funds for the Mayor's Charity Appeal.  They worked with the Basingstoke Variety Show House Band and local comedy ventriloquist Steve Hewlett (pictured above just before the start of the show) alongside other schools, dance academies,theatre groups and musicians.  There was an almost a full house which made for an amazing atmosphere.  We will let you know the full amount raised when it is calculated.  Sadly, we performed our Persian number that helped Team England to win last year's Dance World Cup for the last time.  It was a well received evening for good causes and our B.A.D. Company were sporting our new B.A.D. Squad outfits too.
Please visit https://www.facebook.com/basingstokevarietyshow/ for more information and formal pictures of the event.
Basingstoke Academy of Dancing would like to thank the organisers for inviting us to take part in this fabulous event and hope they hit their records !
It's Showtime!!!!
October 3, 2017
We are very pleased to announce that our Production Dates for July at the Anvil will be 26th-29th July 2018.
We will involve as many students age 5 and over in the productions as we can, but just wanted everyone to be aware of dates.  It is after the schools break up but this is so we can utilise theatre time the most effectively.  We will get to planning the detail very soon and get notifications out by around Christmas.  Inevitably some of you may already be booked on holiday but let us know.
These dates will also incorporate Moving Experience 2018
Just to let you know we are still waiting on 2017 DVD but it will be here any day
🙂
Vocational Exam Results from August
October 3, 2017
We are very pleased to announce that the small set of students taking Advanced 2 Modern and Advanced 1 Tap in the Summer all received Distinction or High Merits
Well Done ladies !
Les Miserables audition success for B.A.D. Students
September 20, 2017
Very well done to Ella, Darcy and Amelia who have successfully auditioned to be in B.A.T.'s Next Gen's version of Les Miserables next year at the Haymarket.
Especially Amelia, who is playing the part of Little Cossette  – she also trains at Theatre 4 Kids who were guests at our recent Moving Experience 2017
Ca you Hear the People Sing ? !
🙂